Brief Introduction:
Eklavya School started in June, 1997. It is a Nursery to Class 12, co-educational, English-medium day school affiliated to The Council for the Indian School Certificate Examinations (CISCE) .
It aims to provide all-round development to each student, laying emphasis on academics, sports, music, fine arts, communication and mathematics, through an innovative curriculum designed to make learning enjoyable.
The education helps inculcate among students 'a sense of purpose' in whatever they do and make the learning process a pleasure and adventure, so that they acquire knowledge to weigh and consider outcomes with reason and discrimination.
Presently the school composition is 1300 students, 110 full-time educators and 12 part-time educators.
Location:
Eklavya School occupies a large 35 -acre campus in the green pristine surroundings of Sanathal village in the southwestern part of Ahmedabad. It is about 5 kilometers from Sarkhej Chowkdi; 11 km from ISRO (Indian Space Research Organization - Ahmedabad) and 14 km from Nehru Nagar Char-Rasta.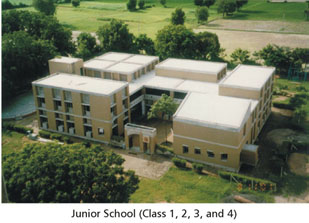 Senior School ( Class 9, 10, 11, 12 )