SPORTS AND GAMES
Physical development is at least as important as mental and spiritual. Many intelligent and capable adults don't do well in life, due to chronic ailments, laziness and an inability to work for long hours. A robust and fit person is always more productive and achieves more.
In the early ages, muscular and motor development is correlated to other areas as well. For example, the rocking of a child in his mother's arm stimulates the cochlea, improves hearing and prepares the child for reading skills. Similarly, finger exercise prepares the child for writing, and so on.
Compulsory Sports
Sports and games are compulsory for every child everyday. In the Junior School, Physical Development is emphasized through PE, Drill, games like football, kho–kho kabbadi, cycling etc. and sport activities like Gymnastics and Skating. In the Middle School, students choose any one sport out of the following and develop themselves further. Professional coaches are appointed for certain sports and parent coaches train the school team in others.We have facilities for following games and sports.
Hockey

Table-tennis

Kho-kho

Kabbadi

Volleyball

Basketball

Badminton

Gymnastics
Picking up a Traditional game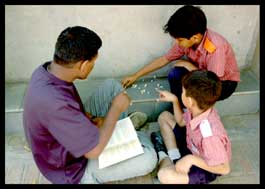 Each of the four houses have teams for various events, including athletics which compete for the Inter House Trophies on the Annual Sports Day, which is held in December every year. The school has teams for various events in different categories, like kho-kho (under –12), football (under –12) etc. which participate regularly in the inter school, district and eventually state and national level competitions.
Summer coaching camps are regularly organized in the month of April-May for Football and Table tennis. It's a treat to see the children all geared up early in the morning, all set to put in their best.
Facilities
The following sports facilities are available:
A large 12,000 sq ft. Indoor gymnasium for games like badminton, table tennis gymnastics.
Over 8 acres of playgrounds for sports like football, basketball, hockey, cricket, athletics, volleyball, kho-kho, kabbadi etc. as well as free play for small children.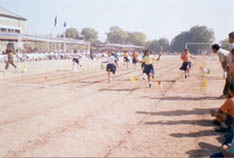 Slides, jungle gym, muscleman, climber, swings, etc. for muscle and suppleness development.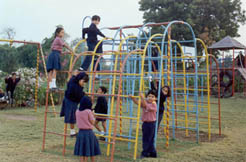 A special balancing bridge made by designers from Holland.