ART AND CRAFT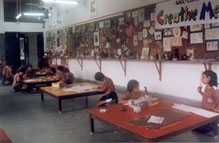 One of the objectives of education is to inculcate in children, the appreciation of beauty and to help them to develop a sense of aesthetics. A lot of emphasis is placed on Fine as well as Performing Arts. In Junior School, compulsory exposure is provided to Art & Craft, Music & Dance, Dramatics, etc. In Middle School, each student chooses one or two areas to develop expertise in, and skilled guidance is provided on a regular basis.
Art & Craft
In addition to painting, sketching and regular craftwork, students are exposed to a variety of media including clay and paper mache. Emphasis is placed on making "the best from waste" by using old boxes, sheets, used fax and toilet paper rolls, etc.
An annual exhibition "Kala Sarjan" is organized to display the creative talents of all the students from K to 8. The work done throughout the year in art & craft, woodwork, metal work, clay work and needlework is displayed.
A special "creative Mela" is organized in the month of August every year. The basic objective is to expose students to various art forms and also show them that there is no end to creativity neither in ideas nor in medium.
In all 35-40 artists using various mediums of creative expression such as sculpture, spray painting, glass painting, pottery, etc; spend a whole day, from morning to evening in the school. This gives the students an opportunity to see an empty canvas gradually take shape into an expressive creative form. This attempt goes a long way in attracting interest in art forms and nurtures the growth of the "artist" in every child.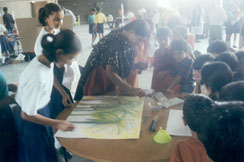 Music and Performing Arts
Children learn singing right from the Junior School, helping them to appreciate a mix of traditional, folk and popular Indian songs, Hindi film songs and Western music. In the middle school the activities are divided into two broad categories – performing and aesthetics. The students are encouraged to develop their talents by choosing any one in each group, keeping in mind her interest and innate potential. Professionals are appointed to hone their talents further.
| | |
| --- | --- |
| PERFORMING ARTS | AESTHETICS ARTS |
| Tabla | Nature club |
| Guitar | Wood workshop |
| Keyboard | Drawing and painting |
| Drums | Craft and clay work |
| Vocal classical (Hindustani) | Knitting and needlework |
| School Band | Electronics |
| Dramatics | Public Speaking/Debating |
| Bharatnatyam | |
Dance & Drama
Dance & Drama help children develop their personalities, gain self-confidence and improve communication skills. Children develop fluency in movements and actions, and learn to express themselves emphatically, in a creative manner.
Students of the middle school have formed an amateur theatre production called 'Phoenix', which puts up a two-hour play annually. "Harry Potter comes to Eklavya" was the first play staged by Phoenix. The story of the play was thought of and scripted by the students. Harry Potter is a wizard, who with his friends Harmonie and Ron, drinks a time-travel potion and lands in Eklavya School. There Voldemort, his archenemy who is spreading pollution everywhere, confronts him. Now Harry with the help of Eklavya students, battles and defeats Voldermort