HOBBIES AND OTHER ACTIVITIES
It is healthy for individuals to have at least one or two interests apart from their vocation or profession. It is usually also educational, and may teach things in totally different fields.
There are a number of Hobbies for students to choose from, which are in the form of activities in the Junior School and Clubs in the Middle School. The range of hobbies on offer depends on the areas picked up by different educators and parent volunteers to guide children. A Sample of some Clubs is given below.
Chess

Hindi poetry

Cooking

Stamp & Coin Collection

Waste to wealth

Gardening

Reading Club

Creative writing

Nature Club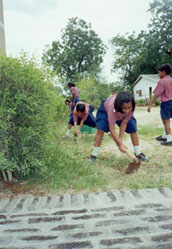 Inter House Competitions
To provide an impetus to non-academic activities, Inter House competitions are organized on a regular basis. The School is divided into four Houses, each represented by a role model from Indian mythology. Shravan, Prahlad, Aruni and Dhruv respectively symbolize the values of Respect, Courage, Obedience and Persistence. Each House has a captain and vice-captain, who are elected from among the students, to develop leadership skills and responsibility.
Competitions are held in various areas such as poetry recitation, slogan writing, poster making, debating, etc, including those covered by Hobbies. Trophies are awarded to the best House on the Annual Sports Day held in December, and the Best House for the competitions held round the year on the Investiture Ceremony held in the month of June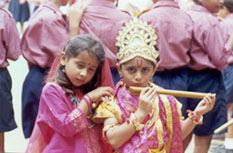 Several other activities are carried out round the year to help children develop themselves in a well-rounded manner, by exposing and sensitizing them to different facets of life.
Nature Club
The Nature club jointly organized with the help of the World Wildlife Fund aims to bring children closer to their natural surroundings and sensitize them to their environment. Nature club as an intrinsic part of the curriculum enables children to gain a deeper understanding of the environment around and the impact of their actions on it. These objectives are achieved through various activities such as nature walks, nurturing plants on a plot of land allotted to them, growing various vegetables, visiting the lush green fields around, climbing trees, etc.
STOP PRESS! - News from the nature club
Sarrus cranes spotted!
Great news for all nature loving people and particularly avid bird watchers. Eklavya had been the proud host of one of the most rare species of migratory bird from Siberia called the Sarrus cranes. These rare visitors were at our campus for a few lucky days. The children were enthralled at the sight of them and would never get tired of watching them. Adding to the feast were our other regular visitors to the duck pond like, Siberian cranes and paddy peahens. Partridges and Quails often crossed our way while passing through the lush green fields around.
This year there has been a new addition to the nature club. It is the 'Tree House'. It is an adventure for the children to climb a tall tree by a shaking rope ladder and to sit in the small tree house and enjoy the peace and cool breeze up on the tree